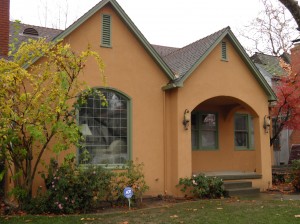 In Sacramento, the heat and humid environment translates to living in a damp home during the cooler months and roasting inside your own house during the summer.
However, before you go and overwork your HVAC system, take the time to consider your home's windows.
Windows play a big part in insulating your home. Your house may lose as much as 30% of heat and let out up to half of cooled air through your windows alone if they're not in good condition. When this happens, you need replacements.
Our expert window contractors can help you with this project. We can:
Inspect your windows for free to check for signs of damage
Check for window insulation problems
Recommend window options – both in design and type
Give you energy-efficient window choices
Install replacement windows for you at a reasonable price
From a free, no-risk window inspection to installation, our experts are always ready to help.
Call Yancey Company at 916-457-2754 for more information on replacement windows Sacramento CA
Free Windows Inspection
Unsure when to call professionals? Replacement windows are a big investment. You have to ensure that you really need them before starting on the project.
We can inspect your windows for free and check them for signs of damage or wear so you know how many you need to get replaced. We'll also give you a project estimate for free so you'll have an idea of how much the project may cost.
Window Insulation Checkup
Even minuscule gaps along the edges of the window frames can let air pass freely and change your home's indoor temperature.
Our expert contractors can and will check the frames around your windows to ensure that the insulation is up to par.
Window Recommendations
With over 70 years in the home improvement business, we know the best brands and the kinds of windows that will suit Sacramento homes.
We can recommend the best windows depending on what you want, what your home needs, and what you can afford. Give us a call and talk to one of our experts to discuss your options.
Energy Efficient Window Options
Given how hot it is in Sacramento, it's no wonder homeowners are racking up huge bills over their cooling expenses. We can provide you with energy-efficient recommendations and install them for you.
Energy-efficient windows will keep your home's indoor temperature at a comfortable constant so you need not overuse your cooling system.
Replacement Window Installation
Our expert window installers can and will install your replacement windows according to the best practices and recommended guidelines by the manufacturers. We do this to ensure that your warranty remains valid and that your windows will last as long as possible.
Replacement windows are more successful with the help of an expert home improvement service company. Call us today or fill out the form for your no-risk, no-obligation quote.
We'll even give you a no-commitment estimate. If for any reason, you don't want our services, the estimate is on us. So give us a call or visit one of our showrooms today.
Published by: Yancey Company