Vinyl Window Replacement Sacramento – A Homeowners Best ROI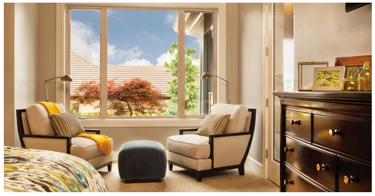 Vinyl replacement windows are fast becoming the most popular style of window replacement Sacramento homeowners are choosing for the best return on their investment.
Traditional wood windows are easily affected by moisture and are most likely to sag, swell and splinter over time. Likewise, aluminum windows lose their looks through oxidation and are also affected by weather conditions, making a home less energy efficient. And both wood and aluminum replacement windows often require extra upkeep that involves painting, resanding or finishing.
Smart homeowners today seeking the best home improvement investment need look no further than vinyl energy efficient window replacements. There are five key benefits associated with quality vinyl replacement windows that homeowners need to know about when making a decision to schedule a window replacement Sacramento project.
Affordability
Vinyl replacement windows offer homeowners the most affordable choice in window replacements, providing a replacement window option in a wide range of prices and styles without sacrificing quality. Professional installation is also less complicated and costly than aluminum or wood windows, providing an additional saving. Vinyl replacement windows are an affordable home improvement investment that boosts not only the appearance but also the resale value of any house.
Energy Efficiency
Impressive savings on heating and cooling costs are one of the most attractive features of vinyl replacement windows. Vinyl energy efficient window replacements are specially constructed using energy efficient glass that works day and night to retain heat inside during the winter months, yet prevents the loss of cool air to the outside during Sacramento's hot summer season.
Milgard Tuscany Series
The Tuscany series has a rich feature set and includes several options:
Choice of two interior colors
Choice of 8 exterior colors
Milgard patented Signature Vinyl Formula
SmartTouch® one handed operation
Multiple Grid Pattern options in three different grid profiles
Vinyl replacement windows constructed using Low-E glass help minimize the amount of ultraviolet and infrared light that can pass through, improving any size home's ability to remain climate controlled inside without being affected by weather conditions outdoors. The weather resistant nature of vinyl replacement window frames also eliminate the problem of windows that leak air or create uncomfortable drafts.
Customization
No matter the age or current design of a home, vinyl replacement windows are available in a wide array of custom colors and designs so homeowners can get the exact look they want. Vinyl replacement windows can feature such options as double-pane glass filled with argon gas as an insulator that helps reduce monthly energy costs. And glass featuring Low-E coatings helps protect interior furnishings, carpeting and drapes from fading due to infiltrated UV light.
Low Maintenance/High Performance
Busy homeowners have better things to do with their time and money than paint, stain or refinish windows frames on an annual basis. Vinyl replacement windows are designed to be fade resistant and require only minimal cleaning to remove surface dirt to keep them looking great year after year. The performance of vinyl replacement windows is also backed by warranties that are the best and most extensive in the window industry.
Durability
Quality vinyl windows manufactured by some of the most respected names in the home improvement industry are built to last. They are guaranteed not to rust, rot or deteriorate despite exposure to sunlight and such weather conditions as high temperatures, wind, rain and humidity.
Why not invest in vinyl energy efficient window replacements and reap the rewards of affordability, energy savings, quality, high performance and durability! Call us at Yancey Company for a free, no-obligation, detailed quote for replacement windows on your home.
Published by: Yancey Company