Kitchen Remodeling
As one of the most used rooms in a house, the kitchen tends to be the hub of the home. It's where families gather and memories are made, as well as some awesome home-cooked meals! For these reasons, many homeowners are discovering the benefits to kitchen remodeling projects. Whether it is a simple upgrade of appliances or a complete overhaul, there are advantages to a kitchen makeover: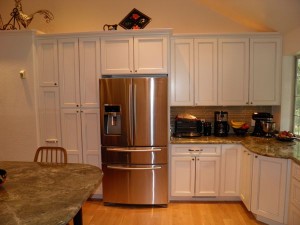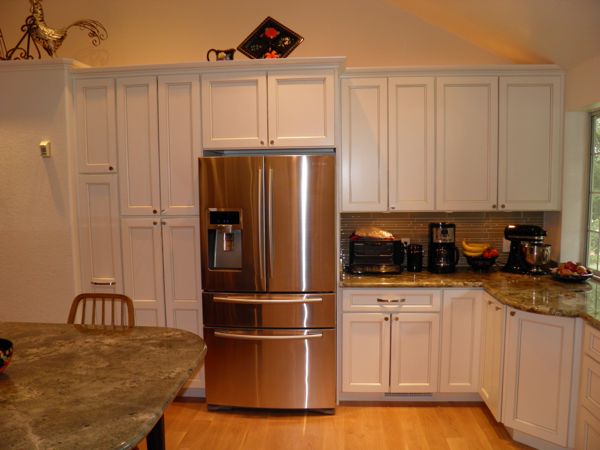 ✓

Kitchen remodels can improve a home's market value.

✓

It will enhance the overall look of the home.

✓

Updated appliances are attractive to homebuyers.

✓

A bigger kitchen is always a good thing.

✓

You can make it more functional.
Increase Your Home's Value with Kitchen Remodeling
A major benefit to kitchen remodeling is an increase to the resale value of your home. Those looking to purchase a house almost always pay particular attention to the kitchen, making any renovation a valuable investment.
A beautiful kitchen makes everyone happier, as it tends to be one of the busiest rooms in the house. Fresh paint, new appliances, and new cabinets and pulls will enhance the look of any old galley. Updating the kitchen will help make the entire home feel newer and more inviting, which is appealing to potential buyers in the future. Old appliances may also be a safety risk, and can be inefficient on utility bills.
Kitchen Remodeling Can Optimize Space
You may struggle with too few cabinets and limited storage space. Organization is something that you desire but seems elusive. A kitchen remodel can take even the smallest of spaces and transform it into a paradise. There are numerous ways to maximize space for optimal storage and functionality. You may even be able to take out a wall or move things around to open it up and make the flow feel more natural.
Yancey Company is just the place to call for all your kitchen remodeling needs. We can take your nightmare and turn it into a dream come true! There is no project too large or too small for our team of experts. Give us a call today for an estimate on your kitchen renovation or any home improvement job.
Published by: Yancey Company