Sacramento Patio Cover Company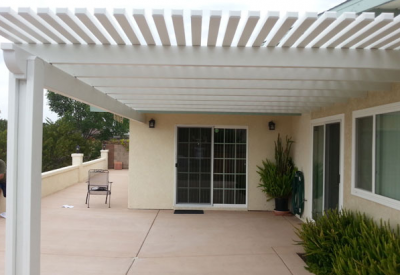 There are many great ways a patio cover company can enhance the outdoor living space of your home. Installation of an awning or roof over your deck or patio area will not only provide cool shade on hot summer days, but it will protect your foundation and furniture from the weather. There are some fantastic material options available that can transform your backyard. Here are the different types of patio covers:
✓

Metal

✓

Wood

✓

Vinyl

✓

Composite
Metal patio covers are a wonderful option for many homes. Aluminum covers are typically easy to install and come in a large variety of styles, colors, and sizes. They are also very budget friendly. Metal is resistant to rot and insect damage, and able to withstand most weather conditions. Your furniture and other patio amenities will be well protected with an aluminum patio cover.
A Wood Cover is a Beautiful Option from a Patio Cover Company
Wood is an appealing choice for many decks and patios. It gives a very natural look to the exterior of the home, and blends very well with the existing materials. Wood is also an environmentally friendly option as some types of trees are able to grow quickly, thus replacing those used for these projects. While it can be affordable, wood does tend to cost more and require more upkeep than some other patio cover materials. But for many, this is a small price to pay for the beautiful results that come with wood.
Vinyl is another great material that can cover your outdoor space. Many of these covers can be manufactured from recycled products, making them an ecologically beneficial option. Another perk to vinyl is that it is lightweight, therefore shipping costs are minimal. Vinyl is low maintenance, long lasting, easy to install, and less expensive than metal. These covers are an excellent choice for many homeowners.
Choose a Composite Option From Your Patio Cover Company
Some homeowners have opted for composite materials to create shade for their deck area. Alumawood is one such product. It gives the look and feel of wood with all the durability of aluminum, because it actually has metal inside. These are fantastic for those who appreciate a wood exterior, but prefer a low maintenance option. Just like metal, alumawood will not be vulnerable to insects, rotting, or deterioration like other wood products.
When you need a patio cover company to design and install the perfect cover for your deck or patio, call the pros at Yancey Company. Our team of experts is ready to meet with you and together create the outdoor living space you have been longing for. For a free estimate and design consultation, give Yancey Company a call today!
Published by: Yancey Company