Patio Covers Extend Time Enjoyed Outdoors in Sacramento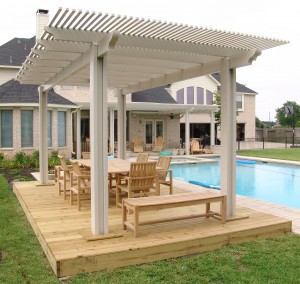 Dining, entertaining and relaxing always seem to more fun when done outside on your patio. But unless you have installed a patio cover to provide some cool and comfortable shade over this area, unexpected thunderstorms and the hot rays of the sun are likely to shorten the amount of time you spend enjoying this popular outdoor living space. The affordable solution to extending the time enjoyed outdoors at your Sacramento home is the professional installation of a patio cover.
Types of Patio Covers
Attractive patio covers are available constructed from a variety of design materials. Many homeowners prefer the natural look of wood incorporated into the design of their patio cover. Wood is an affordable material that is very easy to work with and can be customized in a variety of ways.
Aluminum is another popular material for constructing patio covers and comes in a variety of colors to complement your home's existing decor. Aluminum covers tend to be very durable and are guaranteed not to rot, crack, chip or fade while providing years of cooling shade for your outdoor patio space.
Enamel-finished patio covers are available in a variety of colors and finishes. Baked enamel is desirable as a patio cover treatment because it never peels or chips, making it a good investment as a patio cover that will provide years of service.
Customize Your Sacramento Patio Cover
The roof of your patio cover can be shingled to match the roof of your home. Your contractor can add such amenities as electric lights and fans in order to make your patio an extended living space for the family. Your patio cover can be attached directly to your house or supported by posts made of such materials as wood, metal or Hardiplank. You can add mosquito netting to the sides of your patio cover in order to eliminate the presence of bothersome insects while you relax and dine outdoors.
Numerous Patio Cover Benefits and Flexible Options
Installing a patio cover makes the environment as much as 10 degrees cooler than the air temperature, in addition to protecting you from wind, harmful UV rays of the sun and rain showers. By adding living space to your home, a patio cover increases the amount of time you enjoy outdoors. A patio cover also protects outdoor furniture and barbecue equipment. The right professionally installed patio cover also increases your home's value and requires very little in the way of maintenance.
Published by: Yancey Company