Bathroom Remodeling Sacramento – Local Craftsmen – Design Build Experts
Since 1939, Yancey Company has been a trusted authority for materials and remodeling services in Sacramento, CA. Our third-generation family business specializes in turning clients' visions into reality. Whether you'd like to completely revamp the bathroom in your Sacramento home or if you'd just like to tweak or update a few components, we have you covered.
At Yancey Company, we make remodeling your bathroom easy:
Our free in-home consultations allow you to get the ball rolling with no obligation.
We provide clear, on-time project proposals for every job, so you know exactly what to expect.
We are proud members of the National Association of Remodeling Contractors (NARI) and the National Kitchen and Bath Association (NKBA)
We maintain an A+ rating with the Better Business Bureau.
Our company is licensed for each trade, and we hold general liability insurance that protects your property and worker's compensation insurance that protects our employees.
Get inspiration for your upcoming bathroom remodel by exploring the various components that we design and install:
Choosing Bath Vanities
The centerpiece of any bathroom, the vanity is something that should be selected with care. Our Sacramento bathroom remodeling experts can help you choose from stock, semi-custom and custom options. With stock vanities, you're typically limited to fiberboard or particleboard. As you move into semi-custom and custom options, the possibilities expand considerably. Vanities with tops are convenient, but selecting one without a top lets you choose from many materials, including solid surface, glass and natural stone. Yancey Company will help you explore various finishes and colors too, including metal, wood and glass.
What about Plumbing?
If your new bathroom will have virtually the same layout as the current one, major plumbing work probably won't be necessary. To get precisely what you need–and to take advantage of today's best components–new plumbing may be in order. Piping materials include PEX, a flexible plastic, and copper. PEX is more versatile because it can be snaked, so fewer connections are needed. Copper is great for the environment, but it is susceptible to corroding and bursting. Our Sacramento bathroom remodeling experts will go over all of the options with you to ensure that you get precisely what you need.
Selecting Bath Shower Options
When selecting a shower, consider how long you will be in your home. If you plan to stay put for some time and don't want the option of soaking in a tub, a full shower may be best. However, if you'll be moving in the near future, a shower/tub combination is better because it appeals to a broader array of home buyers. Of course, shower/tub combinations have larger footprints and aren't suitable for very small spaces. Should you opt for a full shower, we'll introduce you to many exciting shower door glass styles, including frosted, tinted and hammered. For the ultimate in luxury, you might consider a full-body shower with multiple heads that literally surround you with water.
Choosing from an Array of Bathroom Tub Options
Perhaps you envision a spa-like bathroom with a huge tub where you can soak away the day's stresses. On the other hand, you may want a bathroom with a general-purpose tub that is better suited for quickly bathing young children. Either way, Yancey Company has you covered. Because we specialize in bathroom remodeling in Sacramento, we are well-versed regarding all of today's most popular bathtub options. We will help you understand the pros and cons of popular options like soaking tubs, walk-in tubs and whirlpool tubs. If you are open to moving your bathtub, you can choose from many options, including freestanding, under-mount, platform, corner and alcove, in which the tub is positioned against three walls. In terms of materials, you'll want to stick with something like acrylic, cultured marble or enameled cast iron for the most luxurious bathing experience. Otherwise, fiberglass is an economical and effective choice.
Beautiful, Comfortable and Resilient Bathroom Flooring
After upgrading all or most of the components in your bathroom, you'll want to replace the flooring too. That way, you can achieve a seamless, stylish, cohesive look for your newly remodeled space. As you already probably know, flooring for a bathroom must be highly resistant to moisture, or it will quickly degrade. Therefore, wood is generally not a good flooring option.
Our Bath Showroom
Come Visit our Sacramento Bathroom Remodel Showroom! Call (916) 441-1616 for Appointments
Although you should generally stay away from wood flooring for bathrooms, there are plenty of other exciting options to choose from. The Sacramento bathroom remodeling team at Yancey Company can help you choose something that suits your lifestyle and needs. Laminate is affordable and durable, and it is available in a dizzying array of colors, patterns and styles. Linoleum and vinyl are similarly popular and worth exploring–especially because they are softer underfoot. Like many folks, however, you may prefer tile. You're in luck because there are so many great tile materials to choose from, including stone, porcelain, ceramic and marble.
Lighting Your Bathroom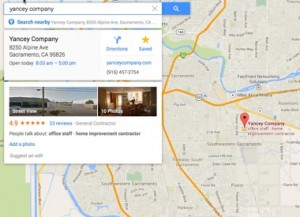 Consider how your bathroom will typically be used to select the most appropriate lighting. If you plan to luxuriate and soak in a whirlpool bathtub on a regular basis, for example, you're going to want mood lighting, which typically involves dimmable lights. However, when in front of the vanity getting ready for the day, you'll want brighter, more direct lighting. Our team will consider the layout and design of your new bathroom, as well as your lifestyle needs, to help you select the perfect option. Our Sacramento bathroom remodeling team includes skilled electricians who know how to create the perfect lighting scheme for any room in the home, including the bathroom. Let us show you all of the great possibilities!
Start Today by Scheduling Your Free Consultation!
Whatever vision you have in mind for your new bathroom, the Sacramento bathroom remodeling professionals of Yancey Company can make it a reality. When you hire us, you'll be assigned an in-office production manager and an on-site project manager, and they will keep you in the loop every step of the way. You are sure to be wowed by our team's professionalism and by how clean the job site is kept from start to finish. Call now to schedule your free in-home consultation!
Published by: Yancey Company