Patio Cover Contractor–benefits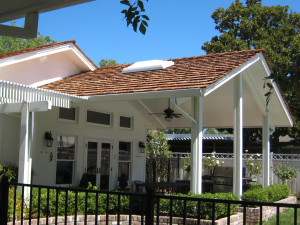 An outdoor living space can be a fantastic addition to your home. You can enjoy nature, entertain, or just have a great retreat. There are so many advantages to having a patio cover contractor build protection for your beautiful exterior living area.

✓

Expand square footage

✓

Improve resale value

✓

Control sun and shade

✓

Help cool interior of home

✓

Protection from weather
A Patio Cover Contractor Can Give You More Square Footage to Enjoy
A great way to increase the useable living space in your home is to build a covered deck or patio. You can create an outdoor kitchen for grilling and entertaining, and there are wonderful ways to utilize the structure for extra storage and seating. A covered patio will has many uses for the whole family.
Did you know that having a patio can increase the resale value of your home? It's true! Potential homebuyers are looking for features that are unique, and while covered outdoor spaces are common, yours may have that extra spark that someone is looking for.
A patio cover will control the amount of sunlight that shines on the outdoor space. If you want a cool place to enjoy the summer, a covered deck or patio may be what you're looking for. Many covers can be positioned just right to catch a good breeze and provide a relaxing place to hang out during even the hottest of days.
Keeping Cool With a Patio Cover Contractor
Covering your patio can also help cool the inside of your home. Most living areas that have a patio feature will have several windows and double doors or a sliding door. When the sunlight comes pouring in through the wall of glass, the room can heat up. A shaded deck can decrease the amount of UV rays that come into the home without taking away the natural light that so many appreciate. Thus reducing the strain on your AC unit.
A covered deck will also provide protection from weather conditions. Snow, sleet, rain, hail, and UV rays can destroy outdoor furniture, grills, and the deck foundation. By covering your structure, your investment will last much longer. And what could be better than relaxing outside during a summer rain? You can enjoy your outdoor space many more days out of the year if you have a cover.
For a Sacramento patio cover contractor, call Yancey Company. Our design team can help you create a luxurious outdoor oasis that your family can enjoy all year long. We offer home improvement solutions for any home and any budget. Let us hear from you today!
Published by: Yancey Company