Sacramento Kitchen Remodel, Bathroom Remodels, Siding, Replacement Windows and Room Additions Contractor – Since 1939!
We are The Original Yancey Company – founded by Joe Yancey in 1939. Over the past 7 decades, we have evolved into one of the leading Sacramento area siding, replacement windows, bath and kitchen remodel, room addition and home improvement professionals. We're built on traditional values like honesty, knowledge, professionalism, and excellence in craftsmanship.
We are committed to providing affordable services that are performed to the highest standard. Through over 76 years of experience in the home improvement industry, we've come to focus on the services that have the biggest impact on your comfort, safety and home's value.
If you're looking for ways to make the most of your residence, our home improvement solutions will help you fulfill your dreams.
In the past, homeowners who had outgrown a property would simply sell the place and move on to a bigger, better house. But times have changed, and so have the needs of Sacramento homeowners.
Instead of packing up and moving when a house becomes too small or inconvenient, Californians now know that it's often smarter to remodel.
When you remodel your property with the help of an experienced, stable home improvement company, you'll have a customized living space that will give you years of satisfaction.
Kitchen Remodel Sacramento
Kitchen remodeling is one of the most popular home improvement projects in Sacramento, not just because a kitchen remodel is one of the best ways to increase a home's investment potential, but because it's also one of the easiest ways to make a home more livable.
If any of these common kitchen problems are bothering you, it's time to consider an upgrade:
😕

Dark, Cramped Cooking and Food Prep Area!

😔

Tiny, Inefficient Storage Space!

😑

Dingy, Grimy, Out-Dated Flooring!

😒

Not Attractive, Inviting or Appealing!
😀 We can help you solve all these Common Kitchen Problems and More! Whether your goal is to maximize space in a small kitchen or give an outdated kitchen a contemporary makeover, The Original Yancey Company of Sacramento offers creative, affordable Kitchen design solutions.
For more info visit:
Sacramento Kitchen Remodeling
Sacramento Bathroom Remodeling
Bathroom space is a key selling point in many home sales. Our focus is not only on making your bathroom more aesthetically pleasing, but on making it accessible to everyone in your home.
For our clients with young children, disabled family members or elderly loved ones, we offer ADA-compliant bathrooms that are as stylish as they are safe.
Here are just a few of the ways that a bathroom remodel or renovation can increase your satisfaction with your home:
✅ Turning a lackluster room into a space for relaxation and rejuvenation
✅ Giving a growing family more room for personal care
✅ Turning a tiny spare bathroom into a valuable asset to your property
✅ Helping your household conserve resources like water and electricity
With over seven decades of experience to our credit, we're experts at remodeling bathrooms in a timely, cost-effective manner.

For more info visit:
Sacramento Bathroom Remodeling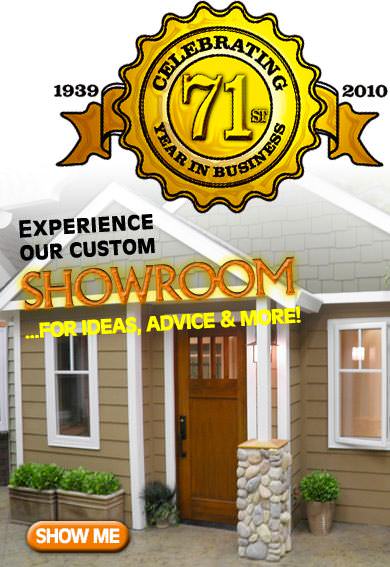 Siding and Replacement Windows
Our services aren't limited to the interior of your residence — we can upgrade your property with improvements to your siding, windows and doors. New siding and window replacement can enhance a home's curb appeal while boosting its energy efficiency.
We draw from a network of reliable suppliers in the Sacramento area to provide a selection of exterior improvement materials, ranging from traditional to modern:
✅ Wood siding
✅ Vinyl siding
✅ Exterior Painting
Even in sunny Sacramento, outdated windows and doors can be a major source of energy loss, especially entry doors. Getting a new door or replacement windows offer some of the best returns on investment of any home improvement project, offering benefits such as:
✅ Reduced heat loss
✅ External noise reduction
✅ Increased home security
Homeowners are concerned about saving money and natural resources. We go the extra mile to cut costs and conserve energy at every stage of the renovation process.
For more info visit:
Sacramento Replacement Windows and
Patio Covers, Decks and Sunrooms
In Sacramento's Mediterranean climate, indoor-outdoor living is naturally appealing. Our outdoor living spaces offer features that set our work apart from our competitors:
✅ Customized rail systems, balusters, trim and wood inlays
✅ Lighting systems that enhance the beauty of your home at night
✅ The highest quality materials, including hardwood and composite deck boards and redwood, aluminum or composite patio covers
✅ A variety of patio cover upgrades, including gas lines for outdoor cooking, electrical installations or jacuzzis
Yancey Company has over 40 years of experience in the construction of sunrooms in Sacramento, CA. Our sunrooms are designed to extend your living space by complementing your home's unique style and structure.

For More Info:
Finding the Right Sacramento Home Improvement Company
When it comes to remodeling your home, we know that you have a lot of companies to choose from. Before you settle on a home improvement company, consider its stability, the length of time that it's been in business, its service guarantees and its reputation in the community. Here are a few other features to look for when you're choosing a home improvement team:
✅ Licensed contractors
✅ Warranties and service guarantees
✅ General Liability Lnsurance
✅ Workmen's Compensation Insurance
✅ High standards in craftsmanship
At Yancey Company, we don't just claim to be one of the leading Sacramento room addition, siding, or kitchen remodeling contractor and home improvement companies; we've earned that title with years of honest work. With an A+ rating from the Sacramento Better Business Bureau, we stand behind each of our projects and take pride in every home remodel or upgrade that we do.
Do you need a full service contractor for room additions or to remodel your bathroom? Call the Original Yancey Company today to find out how we can help you turn your house into your most valuable asset.

Published by: Yancey Company