Hardiplank Siding Sacramento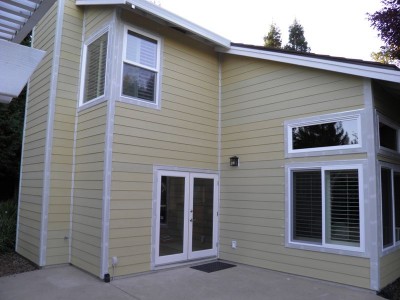 James Hardie is leading the industry in the development and manufacture of fiber cement building materials. Hot, humid climates are all too familiar for California residents, and your home should be able to withstand these conditions. With Hardiplank siding, Sacramento homeowners will find that the exterior of their homes may prove more durable than with traditional masonry materials. Here are some of the reasons to trust Hardiplank:
✓

Performance and durability

✓

Variety of colors

✓

Unique design options

✓

Lifetime value

✓

Easy Maintenance
Get Unmatched Durability With Hardiplank Siding in Sacramento
Hardiplank siding outperforms their competitors on so many levels. When you choose this fiber cement product, you get a non-combustible material that will not melt in extreme heat. Hardiplank is able to resist weather, rot, and termites. It is one of the most durable materials in the industry. And one of the most popular choices in the nation. Homeowners have come to rely on the protection and safety afforded by this fantastic product.
Hardiplank Siding Beautifies Sacramento Homes
There are no color restrictions to worry about with Hardiplank siding. Not only are there several hues to choose from, innovative ColorPlus Technology is much more resistant to UV rays and fading than traditional vinyl siding. Multiple coats are applied at the manufacturer, with the finish cured in between layers. The design options are practically limitless with Hardiplank. The textures and colors available will preserve the integrity of any home, no matter what the architectural layout.
When it comes to home improvement projects, getting a return on your investment is a great perk. When you choose Hardiplank for your siding, you are virtually guaranteed the best ROI in the industry. Fiber cement is much more durable and long lasting than wood, and will cost you less. Lower material cost, less maintenance, and 30 year warranty makes Hardiplank a great investment for your home improvement project.
Hardiplank is very easy to maintain. Because of the ColorPlus technology, the paint will remain vibrant much longer than wood or vinyl. Should a touch up or refresh become necessary, coats will glide on effortlessly. Spraying down the surface with a low pressure sprayer or ordinary garden hose once or twice a year will remove most dirt and debris.
Yancey Company has a great selection of Hardiplank siding for Sacramento homeowners. Our team of expert installers can have the exterior of your home transformed in no time at all. When you need a long lasting product installed by top rated technicians, contact Yancey Company for Hardiplank siding.
Published by: Yancey Company