Replacement Windows Sacramento
Since the Yancey Company was founded in 1939, we have been proud to serve as the premiere home improvement partner for thousands of Sacramento area homeowners.
Two driving concerns always expressed by our customers through the years have been saving money and energy efficiency. As expert installers of replacement windows for homes of all styles and sizes, Yancey Company carries a wide array of the most respected, high-quality name-brand replacement windows to help our valued customers achieve both energy efficiency as well as savings on their monthly energy bills.
Whether your home in Sacramento is historic, mid-century modern or contemporary, one of the best investments you can make as a homeowner is the decision to have Yancey Company install replacement windows Sacramento area homeowners can be proud of. The ROI, or return on investment, of any Sacramento home improvement project is a crucial consideration. According to a report from CNN Money, the ROI on replacement window installation can be as high as 90 percent.
There's never been a better time than NOW to enjoy each of the multiple benefits offered by high performance vinyl or fiberglass replacement windows installed by Yancey Company.
☑ Energy Savings
Temperatures in the state capital often soar to over 90 degrees on a daily basis throughout the summer, when the energy efficiency of your windows makes a big difference in your utility costs. Outdated, poorly insulated windows are a major source of energy loss. But window replacements can cut your monthly energy bills by as much as 25 percent!
☑ Increased Security
New window replacement styles offer many added features that dramatically lower the risk of forced entry. Replacement windows add to your peace of mind that your home is as secure as possible, day or night.
☑ Resale Value
Homes featuring new state of the art energy efficient windows not only make your house look more appealing, they add curb appeal to the value of your home when you decide to put the house on the market.
☑ Easy Maintenance
The right replacement windows saves homeowners time as well as money because today's window designs are easy maintenance. Choose vinyl frames that never have to be repainted. Another option is fiberglass frames that won't crack or fade even after years of service or exposure to sunlight and weather elements. And all of the window products we offer feature quality hardware constructed of die-cast zinc or stainless steel that will last for years.
☑ Reduced Noise Transmission
New replacement windows reduce the transmission of outdoor sounds into the serenity of your living space. Likewise, music, chatter and other sounds from inside the home will no longer bother your neighbors.
Because Yancey Company is your trusted home improvement partner, we help guide you through every step of the process of selecting the best energy-efficient brand of vinyl or fiberglass windows that not only complement your home's existing décor but also fits your budget requirements.
So let's talk about the most important features of replacement windows Sacramento area homeowners should look for in order to realize the best return on investment.
☑ Dual Pane Windows
Also known as double pane windows, dual pane windows are more energy efficient than cheap, single pane windows that allow heat to easily pass back and forth between the glass. Even though windows represent only a small percentage of the surface area of a house, they are responsible for a large percentage of the heat exchange in your dwelling. As a result, your heating and cooling systems don't have to work as hard to maintain a comfortable temperate climate inside your Sacramento home when dual pane replacement windows are securely fitted into place.
☑ Superior Insulation
Dual pane Sacramento replacement windows protect your home against heat loss with advanced insulating properties. Their construction features two glass panes separated by a layer of Argon gas or air. These extra buffers slow the rate of heat transfer, lowering the cost of heating and air conditioning your property. We offer the top window brands constructed with such superior insulating frame materials as fiberglass, vinyl and wood. In addition, you can request window replacements featuring Low-E coating that deflects heat and blocks harmful UV rays.
☑ Reinforced Construction
The reinforced construction offered by today's replacement window brands help to reduce external noise in addition to increasing home security.
☑ Versatility
Yancey Company is proud to represent a network of elite manufacturers that offer a broad spectrum of designs and colors in replacement window styles guaranteed to enhance your home's curb appeal, security and energy efficiency. Gone are the cookie cutter styles of yesteryear. Say hello to the ability to select a brand and style of replacement window for your home that makes your interior more comfortable year-round, the exterior more attractive, while also increasing its resale value.
Why Not Choose the Best Sacramento Replacement Windows Company?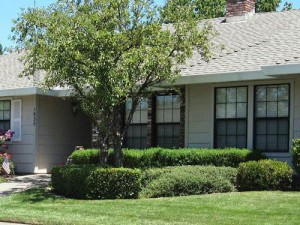 Mistakes in installation can cost you a lot of money in energy loss. While it's possible to install your Sacramento replacement windows yourself, it's much smarter to maximize the ROI by having the job done by the licensed, insured contractors at Yancey Company.
The professionals at Yancey Company have years of experience at replacement window installation. We know how to help you get the maximum return on your investment by making sure you choose the right new window products to meet your specific needs, windows that will protect your home against extreme temperatures, moisture and insect damage.
Choosing a replacement window comes down to a matching feature set that combines energy saving features with great looks, good warranty and professional installation by a certified and reputable replacement window contractor.
Over the years, Yancey Company has earned accolades for its professionalism and expertise in window replacement services. We are happy to provide you with a no-obligation quote for installing replacement windows to enhance your home's energy efficiency, resale value, security and comfort level.
Call us today to find out how our affordable, eco-friendly home improvement solutions can transform your property and save you money.
More Yancey Company Services
Published by: Yancey Company