Sunrooms Sacramento
There's no better way to bring space, light and expanded views to your home than by adding a sunroom to your property.
A sunroom is the perfect location for a breakfast nook, a home office, a playroom or an indoor garden. Take advantage of the Sacramento sunshine by capturing its light and warmth in a room that your whole family can enjoy.
Having specialized in the construction of Sacramento sunrooms for over 40 years, Yancey Company knows that this home improvement is well worth the investment.
Designing Sacramento Sunrooms
Adding a sunroom to your home doesn't have to be a complicated or expensive undertaking. In fact, this home improvement may be one of the most affordable, efficient ways to extend your square footage. For many homeowners, this project is as easy as enclosing an existing patio, porch or deck.
A master bedroom, living room or kitchen can be extended with a custom glass sunroom. Alternatively, a detached sunroom can function as a quiet summer retreat, a guest bedroom or a greenhouse.
Your Own Personal Consultant
The home improvement consultants at Yancey Company consider all of your practical needs when designing a sunroom.
Sunrooms can be heated or air conditioned to provide a comfortable living space all year round. Atmospheric lighting makes these rooms the perfect place for reading, dining or entertaining. Ceiling fans, stereo systems or customized storage areas can be added to make the most of these versatile spaces.
Elite 2000 Sunrooms In Sacramento
Yancey Company is proud to offer a unique product: the Elite 2000 Sunroom. Using patented technology, the Elite 2000 creates a climate-controlled environment. This product offers many advantages to homeowners who love the indoor/outdoor lifestyle:
Sunrooms are available in a variety of styles and sizes.
The structure appears virtually seamless, with no visible rivets or fasteners.
A powder-coat finish provides long-lasting protection.
Advanced thermal technology makes the room comfortable in all seasons.
The Elite 2000 Sunroom can easily be added to your residence to give you more space for relaxing, dining and observing the great outdoors.
Why Choose Yancey Company For Sunrooms?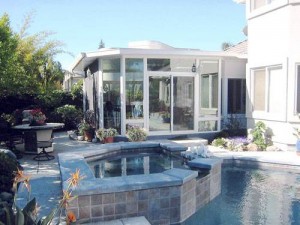 Whether you're interested in a customized glass sunroom, an enclosed porch or a standalone pre-manufactured product, Yancey Company has the solution for you. We tailor each sunroom to our client's needs to make this area a natural extension of your home.
Our products are protected by manufacturer's warranties, and our labor is covered by a service guarantee. From the initial estimate to the completion of your project, we treat our clients with honesty, respect and professionalism.
Take advantage of our 70+ years of experience as remodeling and home improvement experts by calling to schedule a consultation on Sacramento sunrooms today. Call our Local Sacramento Showroom at 916-457-2754 and ask for your free in-home consultation. No obligation!
Published by: Yancey Company