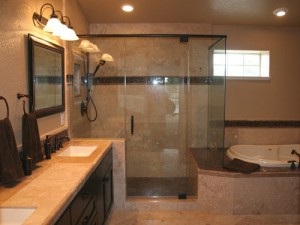 Having work done to any part of a house may add to its value, but remodeling the bathroom can exponentially increase the home's price. Getting the bathroom remodel Sacramento residents deserve is easy if the right company is hired, but it's important to at least try to save money before hiring a contractor. Individuals who aren't afraid to get their hands dirty can save a good portion of money on their remodel, and a few tasks are so easy that anyone can do them.
Performing Demolition for Bathroom Remodeling
Demolition can be a time-consuming process, so it often greatly contributes to the bill a homeowner receives from the bathroom remodeling Sacramento company they hired. Luckily, this can usually be performed by a nonprofessional individual. If the walls are being replaced, the homeowner can tear them down. If tile is being replaced, the old tile can be torn up. All of these simple tasks can be performed before the remodeling company even starts their work, but it's also important to stay safe by using gloves, eye protection, and dust masks.

Handling Cleanup for Bathroom Remodels

Handling the end-of-the-day cleanup will also reduce the final bill a homeowner receives, especially if the workers are being paid by the hour. These professionals get paid well for their work, so there is no point in an individual paying them for something that a five-year-old can do. Sweeping out the bathroom, cleaning fixtures, scrubbing the bathtub, and a host of other tasks can easily be performed by the homeowner without watching the clock.

Removing Fixtures for Bathroom Remodeling

An elderly couple may want to leave this portion of work to the Sacramento bathroom remodeling company that they hire, but younger individuals can remove bathroom fixtures with very little knowledge. Removing toilets and sinks can be a cinch if a homeowner knows someone who can explain the process to them, or if they simply look up the easy task online. Removing lighting fixtures and bathtub faucets can also save the homeowner a few dollars. It is important, however, for an individual to not attempt anything that they don't feel comfortable with and to kill the power to the bathroom before removing lighting fixtures.

Remodeling a bathroom is a complex task that definitely requires the work of an experienced company or contractor, but it's a simple fact that not all of the work involved requires a rocket scientist. Whatever work homeowners can do on their own will definitely save them time and money once the remodeling company comes in to work. It is always a good idea for an individual to inform the company of their intentions since the contractor may have a few tips, but handling these simple tasks should be no problem at all.
Published by: Yancey Company