Patio Covers Sacramento
Have you been thinking of a installing a new patio cover on your home? A quality patio cover provides shade on sunny days, shields your patio furniture against the elements and creates a special outdoor space for entertainment.
To make your yard as inviting as possible to family, friends and guests, consider protecting your patio with a sturdy yet attractive awning, pergola or canopy.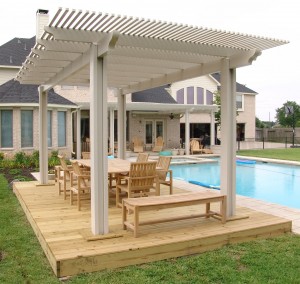 A covered patio can turn a basic backyard into an open living area that's suitable for parties or cookouts in all seasons. If you're thinking about upgrading to a covered patio, let the design consultants at Yancey Company guide you through the process of selecting and installing a model that suits your home.
Comparing Patio Cover Materials
A patio cover sets the tone for your home's landscape. The material you choose should blend with your home's exterior architecture while accommodating your lifestyle. Before helping you decide on a cover, we'll sit down with you to discuss how you hope to use this area.
Do you plan to cook outdoors, host parties after dark or just enjoy relaxing afternoons with your family? Do you want to incorporate container gardens, flowers or vines into your patio design?
Through seven decades of experience, Yancey Company has built a network of suppliers that provide top-of-the-line materials for patio cover in Sacramento, including:
Redwood: A naturally weather-resistant choice for traditional or contemporary California homes
Aluminum: A lightweight, versatile metal that's easy to maintain and available in a broad spectrum of colors
Wood composite: An exceptionally durable material that stands up to weather, sunlight and insects
Fabric or vinyl: Fabric or vinyl awnings and canopies offer an affordable way to accent your landscape
Patio covers can be constructed in a variety of styles, from solid covers to latticed pergolas. The style and material of a patio cover should complement a wide range of outdoor furniture designs, so that you can easily replace your patio furnishings without worrying about whether they'll clash with your cover.
How to Upgrade a Sacramento Patio Cover
In Sacramento's mild climate, homeowners can enjoy outdoor living at any time of year. To maximize your use of your patio, Yancey Company can enhance the space in a number of exciting ways:
Landscape lighting systems
Outdoor entertainment installations
Gas lines for ranges or grills
Outdoor fans, misters or heaters
Spas or jacuzzis
Schedule a consultation with one of our home improvement experts to discuss how a covered patio can transform your yard.
How We Guarantee Our Patio Covers
With over 70 years of experience in the Sacramento area, Yancey Company understands the importance of safeguarding our clients financially. Our patio covers are protected by manufacturer's warranties and by our own service guarantee. We also carry a $2 million liability insurance policy to cover our customers in the unlikely event that a project doesn't go as planned.
Most importantly, we back our work with a reputation of offering affordable, long-lasting home improvements in Sacramento since 1939. Contact us for a free estimate on patio installations today.
For more info on patio covers check out this link