Sacramento Area Kitchen Remodeling Specialists!
For more than 77 years, Yancey Company has been the name to trust for professional, dependable, high-quality kitchen remodeling in Sacramento, CA. Owned and operated by the same family for three generations, we specialize in bringing clients' visions to life.
Over 77 Years in Business
A+ Rating with the Better Business Bureau
Licensed for Each Trade
General Liability Insurance – Protects your property
Workman's Compensation Insurance – Protects our employees
Third Generation Family Business
National Kitchen and Bath Association – NKBA member
National Association of Remodeling Contractors – NARI member
As trusted Sacramento kitchen contractors, we maintain an A+ rating with the BBB and boast a wide array of credentials, including memberships with the National Kitchen and Bath Association, or NKBA, and the National Association of the Remodeling Industry, or NARI. Our skilled interior design and remodeling contractors are fully licensed and insured. With free in-home consultations, clear, on-time project proposals and competitive prices, you can't do better.
Get the ball rolling on your Sacramento kitchen remodeling project by exploring the many components that we design and install.

Kitchen Countertops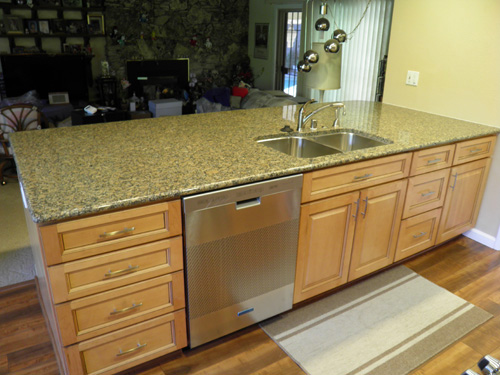 A kitchen countertop is more than a work space. It also serves as a major focal point in any kitchen, so it's crucial to select materials and styles that suit your aesthetic and functional requirements. As Sacramento, CA, kitchen and bath remodeling specialists, Yancey Company has the expertise, experience and talent that are needed to help you select the perfect option for your kitchen.
What do you have in mind for the counter tops in your Sacramento kitchen remodel? Selecting the right material is the most important aspect, and there are plenty of options to consider. Natural stone–granite, in particular–is wildly popular not only for its attractiveness but also for its practical qualities, as it's naturally heat resistant and can be sealed to ward off bacteria and stains. Quartz is another popular option, and it has the added bonus of being naturally non-porous, so no sealant is required. The Sacramento kitchen remodelers of Yancey Company can install these materials as well as other popular choices, including laminate, tile, concrete and more.
Kitchen Flooring
Another important aspect of any Sacramento kitchen remodeling project is selecting appropriate flooring. If you're completely remodeling your kitchen, give plenty of thought and consideration to this step. First, consider how you typically use your kitchen.
Popular Flooring Options
Natural Wood
Stained Concrete
Tile
Laminate Flooring
Our Showroom
Come Visit our Sacramento Remodeling Showroom! Call (916) 441-1616 for Appointments
If you'll be on your feet for long periods of time, consider choosing softer flooring. Hardwood is a popular option. If the kitchen is heavily trafficked and used for preparing meals frequently, make sure that the flooring that you select is easy to clean and not prone to staining. Naturally, suitable kitchen flooring is water resistant as well.
Yancey Company provides all of today's most popular kitchen flooring options. When you hire our kitchen designers in Sacramento, CA, you can choose from a wide assortment of attractive, durable, easy-to-clean options. Our team can help you zero in on flooring options that mesh well with the overall design of your kitchen while ensuring that they suit your lifestyle requirements as well. You can check out many options at our Sacramento design center. Popular options include laminate, vinyl, bamboo, tile, linoleum and cork. With help from our team, selecting kitchen flooring that suits your kitchen both aesthetically and functionally is a breeze.
Kitchen Plumbing Fixtures and Finishes
Plumbing fixtures and finishes are integral elements of any well-designed kitchen, as they help to tie everything together into one elegant, seamless look. Whether you have something in mind already or need guidance from our Sacramento kitchen remodel experts, Yancey Company has you covered. The primary fixture to focus on when remodeling a kitchen is the faucet, and we provide a wide selection of attractive, durable, gorgeous faucets that suit a vast array of color schemes and designs. Take your pick from wall-mount and deck-mount faucets. Explore the possibilities with different handle styles and sprayer options. We can even introduce you to high-tech, hands-free faucets.
Choosing a finish for your kitchen plumbing fixtures can be a daunting proposition.
What's Your Style?
Chrome
Stainless Steel
Pure White
Nickel
Bronze
Our remodeling contractors in Sacramento, CA, are well-versed regarding all of today's most popular kitchen finishes, and they can guide you through the decision-making process. Whether you're interested in non-metallic finishes, such as black-, white- or biscuit-colored epoxies and enamels or in metallic styles like bronze, pewter, chrome, nickel, brass, stainless steel or platinum, we have what you need. Additionally, most of these options are offered in satin, brushed or polished styles, giving you even more ways to customize and enhance the overall appearance of your stunning new kitchen.
Kitchen Tile Work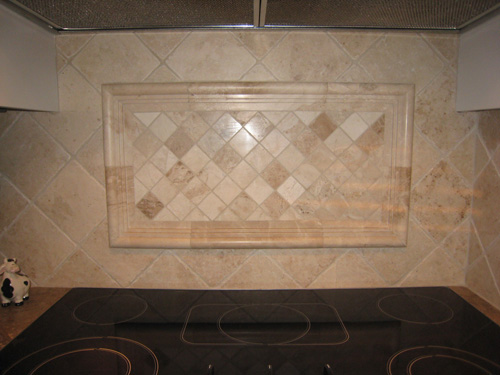 Without question, one of the best ways to add personality and flair to any modern kitchen is with custom-designed tile work. Yancey Company is pleased to offer customized kitchen tile work as a part of our Sacramento, CA, kitchen design services. Most clients opt for a dramatic focal point above the sink or the range. The ideal location will vary depending on the overall design of your kitchen. Tile backsplashes aren't just pretty to look at; they enhance the functionality of you kitchen and make it easier to clean and maintain.
The skilled Sacramento kitchen remodelers of Yancey Company specialize in all manner of kitchen tile work. When you visit our design center, you can explore a number of exciting options. Popular materials for modern kitchen tile work include granite, marble, brass, stainless steel, bronze and glass, which can be frosted or even given a crackled appearance. Many clients like to mix and match different types of tiles to produce an eclectic and eye-catching design. Our design team can sit down with you to explore various options, including mosaic patterns that perfectly suit the color and style of your kitchen countertops.
Call Today to Schedule Your Free In-Home Consultation

Published by: Yancey Company