Bathroom Remodel Sacramento Projects by Yancey Company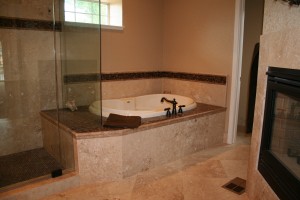 No Sacramento, CA bathroom remodeling contractor has come close to the quality of service provided by Yancey Company – and for good reason.
Bath Remodeling Project Benefits:
Very High Return on Investment
Very High Home Owner Satisfaction
Unlimited Design Choices
Opportunity to Add Storage, Lighting, Style
Increase Efficiency – Reduce Maintenance
Reduce Energy and Water Use
Backed by over 77 years of industry experience, Yancey Company has established itself as a pioneer in the remodeling industry.
In its 2012 Cost vs. Value report, industry authority Remodeling Magazine lists bathroom remodel projects as among those that provide the most return on investment. According to the report, an upscale bathroom remodel yields an ROI of 53.7% while a mid-range project yields 56.4%.
If you're expecting to put your property on the market in the next couple of years, you may want to consider a bathroom remodel to help boost your property value.
Custom Bath Remodel Projects
Have the bathroom you've always wanted at a price you can absolutely afford. We provide custom remodeling to cater to all tastes and preferences.
Still not sure about what kind of bathroom you want? Don't worry. Our designers can help you come up with a design that's truly yours. Take your pick from the hundreds of remodel projects in our portfolio. Then, mix and match colors, textures, and materials from our supplier catalog of over 20 recognized brands.
Client Support
We understand how unnerving it is to have an entire crew tearing away at your bathroom walls.
That's why we have project managers to guide you through the whole process – from the laying of the first tile, to the installation of the last light bulb. You can be sure we're with you every step of the way.
Peace of mind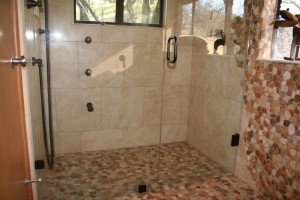 All home improvement tasks carry a significant amount of risk in them, and bath remodeling projects are no exception.
We follow strict safety protocols and work site guidelines to ensure the safety of everyone involved. However, we know better than to take our chances.
We are among the few remodeling contractors in Sacramento that has a general liability insurance of 2 million dollars – that's twice the standard for contractors.
With us, you know that your property and everyone working on your home are completely protected.
Your Safety
Lead-related poisoning is a huge issue in the construction industry.
Brain damage, development issues, and even death in children and adults are linked to exposure to lead dust.
Fortunately, its use in homes was banned in 1978. However, a study released in 2008 has proven that lead paint found in homes built before 1978 is still as dangerous even today, especially during remodel projects when the paint is stripped off and particles become airborne.
The Renovation, Repair, and Painting (RRP) rule requires contractors to undergo special training in the handling of suspected lead materials in the work site to prevent people from being exposed to this harmful substance.
If your home was built before 1978, chances are, it has traces of lead paint in it.
Yancey Company is proud to be among the first remodeling firms in Sacramento to be an RRP certified contractor.
Special bathrooms
The bathroom is the least accessible place for children, the elderly, and persons with special needs.
We specialize in the installation of safety fixtures, accessibility installations, and fittings.
Let's get you started on your way to a better home. Call us today for a free no-commitment estimate.
Make your bathroom a better place with:
Custom grab bars
Non-slip flooring
No-scald shower heads
Custom toilets
Special lighting fixtures
Replacement Windows with Obscure, Tempered Glass
Contact us today to schedule your in-home project estimate. click here. There is no cost and no obligation.
Published by: Yancey Company