Are you researching ADA bathroom contractors in Sacramento?
We understand how important this decision is to you. Since 1939, Yancey Company has designed beautiful bathrooms that comply with the Americans With Disabilities federal law and local guidelines..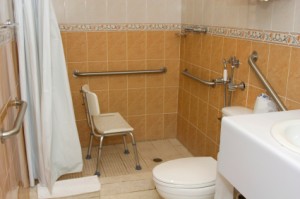 As a homeowner, you may not know the exact specifics of the Americans with Disabilities Act (ADA). But if someone in your household is disabled, you understand the need for a bathroom that's safe, comfortable and inviting. You can leave the structural specifics of ADA bathroom compliance to our experts.
Is your goal is to make life safer for your loved ones or to boost the resale value of your property? Our customized bathroom designs can help you get the results you want.
Bathroom Upgrades for the Disabled
Busy California homeowners shouldn't have to read pages of federal legislation just to have a safe, efficient bathroom. When you work with Yancey Company, you can feel confident that your project will meet federal standards for accessible design, including:
Doorways and enclosures that are wide enough to accommodate a wheelchair, walker or other assistive device
Properly installed grab bars to provide safety around the shower, tub or toilet
Sinks, mirrors and medicine cabinets that are mounted at the right height for family members in wheelchairs
Bathtub and shower seats that meet the structural requirements of the ADA guidelines
Non-skid flooring and impact-resistant shower doors to prevent injuries
And ADA-compliant fixtures and accessories that are both convenient and stylish
With years of experience remodeling bathrooms in the Sacramento area, Yancey Company understands the challenges you face when you're trying to bring an older bathroom up to the latest federal design standards.
We can help you make the necessary upgrades in the most cost-effective manner. Our goal is to help you enjoy all the benefits of a fully compliant bathroom without going over budget.
Advantages of ADA Bathrooms
The ADA prevents discrimination against physically handicapped individuals by requiring all public buildings to provide easy access for the disabled. This federal legislation applies to office buildings, health care facilities, public recreation centers, theaters, hotels, schools and many other entities.
If you run a business that serves the public, you must provide bathrooms that make it easy for the handicapped to enter the facility, use the toilet stall, take a shower or bath and perform personal care.
Why should private homeowners be concerned about meeting federal standards? There are many advantages to working with ADA bathroom contractors, even if you're not required to comply with the legislation:
Accessible bathrooms provide maximum safety for loved ones who are disabled, elderly, injured or ill
ADA contractors take the headache out of accessible bathroom design by covering all the bases for you
An ADA-compliant bathroom can be a big selling point if you decide to put your home on the market
And ADA bathroom contractors will save you money by getting all of the details right the first time and eliminating costly mistakes
Reliable Bathroom Contractors
As public awareness of the importance of accessible bathrooms grows, homeowners have more choices than ever when they're looking for ADA contractors. At Yancey Company, we offer a level of expertise that has become hard to find in this day and age.
We realize that family is important to you; that's why you're making this important investment in your home. To protect the people you care for most, consider these reasons for relying on us:
Our work is guaranteed by service and manufacturer warranties
Our company is covered by a generous liability insurance policy
We bring over 70 years of professional experience to every project
And we complete your bathroom in a safe, timely manner to minimize inconvenience to you and your family.
You don't need to sacrifice style or beauty to have a bathroom that provides security for your loved ones. Our customized designs are aesthetically pleasing as well as functionally efficient.
Call us to find out how our ADA bathroom contractors can turn an outdated bathroom into a welcoming retreat for every member of your household.
Published by: Yancey Company