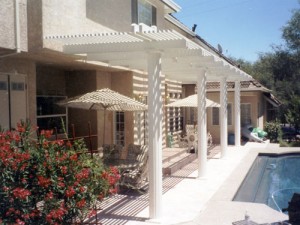 There are numerous things that a person can do within his or her home to make it more valuable and aesthetically pleasing. Hiring a patio covers Sacramento based company, however, allows a homeowner to make the exterior of the home more pleasing as well. Some people think these covers are simply for show, but they provide much more than that. Knowing all of the benefits related to having a patio cover installed may very well convert a few skeptics.
Add Value to Home with a Patio Cover
Sacramento patio covers are a great way to increase the worth of a home. As previously mentioned, these covers add aesthetic value to a house; this, of course, will increase the home's overall value. Fortunately, these extensions of a home also have functionality. An individual will love the new area that they have outside of their home, and this means that any potential future owners will likely love it too. Functionality and beauty will always be good for a few extra thousand dollars on a home's asking price.
Expand Social Spaces with a Patio Cover
Regardless of the patio cover Sacramento homeowners choose for their home, they are going to easily expand their social space. California summers are easily some of the hottest in the nation, and this usually leads to social gatherings never leaving the comfort of a home's interior. A patio cover, on the other hand, provides maximum shade and plenty of room for family members and house guests to enjoy the outdoors during even the most sweltering days.
Adding Upgrades to a Patio Cover Installation
One of the most coveted benefits of having a patio cover installed is the upgrades that most companies can provide with it. Adding a patio cover to a home provides shelter, which basically means that items that are never supposed to be in the outdoors finally can be. Some companies can install entertainment systems, outdoor kitchens, and even Jacuzzis under these covers. The only downfall of this is the possible jealousy the neighbors will feel.
Having a patio cover installed on a home has a multitude of benefits that many people never even consider. Sure, they look nice, but there is so much more to their functionality. A professionally installed patio cover can provide simple luxuries that most people don't even realize that they're missing.
Published by: Yancey Company