Which Materials to Use on Sacramento Patio Covers?
Having an outdoor living space means something different for each family. For some, it's a place to relax. For others, it's a place to entertain. And because no two homes are exactly alike, you will need to be able to customize your patio area to your specific needs, budget, and taste. There are many different types of Sacramento patio covers, and we have expertise in them all.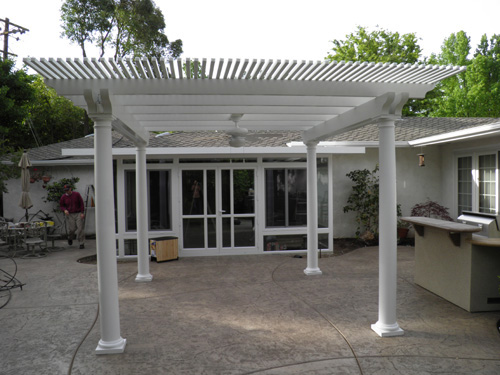 Wood Pergola
An elegant redwood patio cover can add the perfect touch of luxury to any home. Grass lawns, backyard landscaping, and gardens become exquisite with the addition of a wood pergola.
Composite Patio Cover
When you take composite wood and cement fiber and bring them together, you create a fantastic product that can beautifully accent any outdoor space. As one of the toughest materials available, these covers are resistant to pest damage and rotting. Our contractors are specially trained in the handling and installation of these great patio covers.
Aluminum
You just can't find a more versatile material than aluminum. These lightweight covers resist cracking, warping, and rot, and can be combined with other products to create depth and texture.
Solara Patio Covers
A patio cover should provide enough shade to block the afternoon sun while still allowing ventilation. Solara adjustable patio covers give homeowners complete control over the amount of shade with just a touch of a button. Rain or shine, you and your furniture will be safe from UV rays and rain. Yancey Company specializes in the installation of Solara patio covers, and we guarantee the perfect custom fit.
Closed Installations
Expanding the living area of your home onto an enclosed patio cover is more affordable than you would expect. Our design specialists will take your existing décor and seamlessly incorporate the added square footage into a beautiful place of respite.
Thinking About Getting a Patio Cover For Your Home?
If you want the best for your Sacramento patio cover, trust Yancey Company.
We offer most types of patio cover projects for any homeowner looking to add value and beauty to their home.
Among these are:
✓

open/closed patio covers

✓

sun rooms

✓

pergolas

✓

additions

✓

and much more
With over 71 years of experience in the industry, we are among the oldest and most established full-service home improvement contractors in the Sacramento area. Over these many years of business, we have learned and applied the qualities necessary to providing the best service to our customers. In addition to our first rate service, we only use top rated products and materials to ensure that every job is done right.
Warranties
Yancey Company ensures that all projects are completed and covered by manufacturer and service warranties. We want our customers to be able to enjoy their patio covers for many, many years. Not only are our materials covered by their own product warranty, but our service warranty covers labor costs within the warranty duration.
When you hire Yancey Company, you are getting:
✓

You get certified contractors

✓

All projects are licensed by the Sacramento Building Department

✓

General liability insurance of $2 million – twice the industry standard

✓

Solid warranties

✓

Fast turn-around time
Get a Free Quote or call us at 916-457-2754
Your complete satisfaction is our guarantee, so check out our showroom or give us a call today for a free, no commitment estimate.
Published by: Yancey Company