Increase the Curb Appeal for Your Home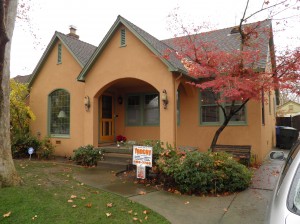 When it comes to houses, the old proverb of not judging a book by its cover doesn't apply. How a house looks from the outside is a direct reflection of its interiors, at least to most people's minds.< This said, if the exterior of your home fails to impress, you cannot expect home buyers or your neighbors to think that something better awaits inside. This can spell disaster if you're trying to sell or increase the value of your home. The best Sacramento painters work for Yancey Company and will help you correct this perception. Our painters are among the best in Sacramento and there's nothing like a fresh coat of paint to liven up your home's exteriors.
Refresh and update the look of your home
Highlight architectural details of your house
Draw attention to assets and diminish imperfections
Provide additional weather protection
Give an easier home maintenance schedule
Interested in our exterior painting services?
Dial 916-457-2754 for a consultation with one of our expert painters.
You can also schedule for an on-site estimate, a service we offer for free and at no-obligation.
If for any reason, you don't want our services, the estimate is on us.
So give us a call or visit one of our showrooms today.
Refresh and Update Your Home's Look
Siding looking a bit worn? Unsightly stains that no amount of scrubbing can remove? A fresh coat of paint can make your home's exteriors look cleaner, brighter, and better in less time.
Paint can make your home's siding look new, cover stained walls, and wash your home in fresher, more complementary colors.Our expert painters can provide you with suggestions and color choices that will suit your home. Whether your siding is stucco, wood, fiber cement, or vinyl, our painters can suggest the perfect finish and color.
Highlight Architectural Details
Architectural details go a long way in helping your home sell. A striking but complementing wash of color can make these details stand out and contribute to the overall look of your home.
You can even consult with our expert painters on what kind of colors and finishes will make them stand out more.
Draw Attention to Assets, Hide Flaws
Paint works like makeup for worn out exteriors. They can highlight the best features of your home while masking its flaws. Got new windows?Highlight them with freshly painted and striking trims.
Porch steps looking run down? Mask the problems with a fresh coat of paint. Our expert painters can discuss with you which parts of your home's exterior would do well with highlighting or need masking.
Provide Weather Protection
Paint is more than just for aesthetics. It also provides additional weather protection for your home. The paint, along with the caulking and prep work, will prevent moisture and humidity from seeping inside the walls.
Your home's siding and exterior fixtures will last longer when protected by paint. Our painters use only the best paints to protect your property.
Easier Home Maintenance
Exterior paint, including proper caulking, reduces air and water vapor infiltration into the walls and eventually into your home.
Water vapor in the exterior walls reduces the effectiveness of insulation and can cause rot or mold problems. Our painters can protect your home effectively from these threats for easier maintenance.
For more information about our exterior painting services or to get a free quote from one of our expert painters, call us today. Check out what others are saying about us on Angies List!
Get a Free Quote or call us at 916-457-2754
We'll even give you a no-commitment estimate.
If for any reason, you don't want our services, the estimate is on us.
So give us a call or visit one of our showrooms today.
Published by: Yancey Company