The Name to Trust When Looking for Handicap Bathroom Contractors in Sacramento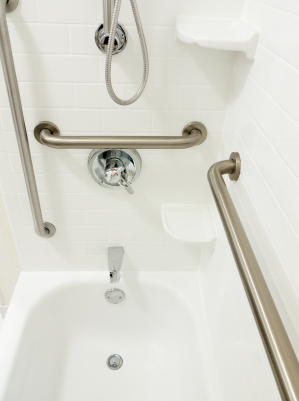 Have you been on the lookout for a contractor that specializes in handicap bathroom remodels or new construction in the Sacramento area? Handicap bathroom contractors in Sacramento are out there, but will they deliver a handicap bathroom design that is also attractive  and not something that you might find in an institutionalized bathroom?
You need a contractor who can create a beautiful bathroom that has a comfortable feel but keeping functionality as the first priority.
If you or someone in your family has a physical disability, you don't need to be told how important it is to have a bathroom that accommodates your needs.
All too often, the disabled have to put up with narrow bathroom doors, inaccessible bathtubs and impossibly high sinks in their homes.
At Yancey Company, we specialize in designing customized bathrooms that are tailored to your specifications. As qualified handicap bathroom contractors Sacramento and leaders in the industry, we know that if this important room is accessible and attractive, you're much more likely to be happy in your home.
New Trends in Handicap Bathrooms
A bathroom that's safe for the handicapped or the elderly doesn't have to be boring and utilitarian. As our population ages and our society becomes more sensitive to the needs of the disabled, accessible bathroom design is more versatile and style-conscious than ever.
The handicap bathroom contractors at Yancey Company stay on top of new developments in the industry, such as:
Open spa baths that your whole family can enjoy
Beautifully textured tiles and surface materials that prevent falls
Contoured, walk-in shower stalls that offer lots of space for assistive devices
ADA-compliant grab bars that are stylish enough to enhance any bathroom
And customized floor plans that eliminate the generic "cookie-cutter" look
Designing bathrooms for the handicapped is nothing new to Yancey Company; we've been proudly offering accessible home improvement solutions for generations. But in order to give our clients the benefits of the latest advances in handicap bathrooms, we are constantly exploring new layouts, accessories and fixtures.
Customized Handicap Bathroom Designs
How is a customized handicap bathroom design different from a standardized layout? A custom bathroom is created with your needs in mind, so that you end up with a space that's truly your own. When we develop our plan for your bathroom, we think about factors like these:
The assistance devices you use (wheelchair, crutches, walker, cane)
Your specific limitations (restricted mobility, chronic pain, visual impairment)
Your family's storage needs (cabinets, drawers, recessed shelves)
And your bathing preferences (bath, shower, whirlpool spa)
Every room in your home should reflect your individual style as well as your physical restrictions. We consider your personal tastes as we select the fixtures, materials and color schemes for your new bathroom.
Bathroom Safety Features
As leaders in the home improvement industry since 1939, we're no strangers to the importance of bathroom safety. If someone in your family has a handicap, it's more important than ever to keep safety in mind when remodeling this area of the home.
From slip-resistant floors to scald-proof faucets and adjustable lighting, our bathrooms are designed to reduce the risk of injury. At the same time, we can enhance comfort and convenience with features like elevated toilet seats or radiant floor heating.
Our goal is to create bathrooms that maximize independence while providing a relaxing, soothing atmosphere for you and your family.
Choosing a Handicap Bathroom Contractor
Many homeowners are cautious about choosing a handicap bathroom contractor — and rightfully so. A lot of fly-by-night construction companies will promise to remodel your bathroom according to federal guidelines for the disabled, only to leave you with a mess that costs thousands of dollars to fix.
For the best results, ask yourself these questions when you're looking for a contractor:
Is the company qualified to install bathrooms that comply with ADA requirements as well as local building codes?
Are the contractors licensed and adequately insured?
Has the company been in business long enough to build a strong reputation in the community?
Does the company guarantee its services with reliable warranties?
A third-generation home improvement contractor, Yancey Company has been serving Sacramento since 1939. For unique handicap bathroom designs at affordable prices, you can count on our experience and professional expertise.
Published by: Yancey Company