Your Gourmet Kitchen is just a few Steps Away!
If you love cooking, you probably have needs for your kitchen that are
above and beyond the average kitchen remodel
Please Feel Free to browse our Gallery below for Kitchen Remodeling Ideas!
At Yancey Company, our NKBA Certified Designer can help you get the gourmet kitchen of your dreams. NKBA Certified means that he has specialized kitchen and bath design training and has been certified by the National Kitchen and Bath Association.
Work with NKBA Designer
Visit our Showroom
No Pressure Tactics
Licensed Contractor #165793
BBB A+ Rated
Fully Insured
Over 77 Years in Business
These qualifications along with our State of California License, our BBB rating and all the testimonials you'll find all over the internet proves that you are getting the level of attention you'll need throughout your project.
Yancey Company has a complete kitchen showroom available in Sacramento where you can come in and touch and feel the finishes, see the colors and sheen of different products and ask questions of our designer. You probably already have a good idea what you want in a kitchen. The questions you may have are more related to how to put it together into a cohesive design and how to manage a project of that scope.
Beautiful Sacramento Kitchen Remodeling Showroom
After visiting our showroom and speaking with our designer about your project (all free services, by the way) you'll be fully informed and ready to make a decision. A complete, detailed quote will be prepared for you so that you'll know exactly what to expect and then…we let you make up your mind. No high pressure tactics! No obligation for our design and quote services.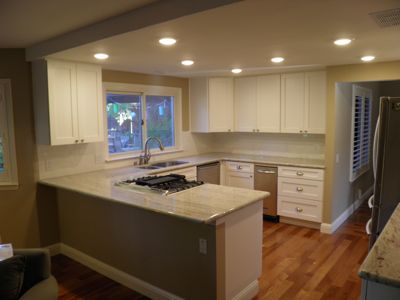 Should you decide to use Yancey Company for your gourmet kitchen remodel, our project manager then steps in to coordinate everything from the first step in removal to the last cabinet knob screw. One person to deal with throughout the project. That means no passing the buck and playing phone tag with multiple departments.
No Pressure Sales Techniques
So, how do you get started? Choose either to call us or complete the request form. Either way we'll answer additional questions you may have and we'll set you up for an estimator to visit your home and prepare a kitchen remodel plan that is customized to your needs.