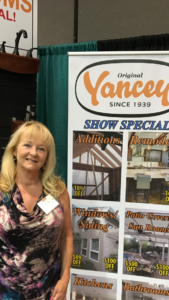 Meet Yancey Company Sales Professional Maura Eastwood
Maura Eastwood entered the home improvement industry in 1984.
Industry Experience
In the early days of her career, efforts were concentrated primarily on new construction projects assisting contractors and owner/builders with design and selection of cabinetry, flooring and appliances.
In the 1990's, Maura specialized in flooring only projects until moving to Montana where she sold flooring and appliances. She took a 5-year detour from home improvement when she opened her own successful music business in 1995.
In 2000, Maura returned to California to resume her flooring career which, in 2003, blossomed into a return to the kitchen and bathroom industry. Since 2003, Maura has helped several thousand homeowners design and select their kitchen and bathrooms with sales over 16 million.
Committed to Customer Service
Maura is committed to providing excellent customer service and especially loves the creative process involved in helping homeowners create the kitchen or bathroom of their dreams. She looks forward to helping you!