Caring for the Heart of Your Kitchen
A kitchen is never just a kitchen! We're sure that Sacramento neighbors and homeowners will agree.
It's a workspace, a place for your friends and family to gather and a part of your home that is meant to enjoy and make use of. That being said, kitchen remodel in Sacramento should not be handled by just anyone. The kitchen remodeling contractor that you choose should have the right mix of skill and experience to bring life to your plans and designs. Here's why Yancey Company fits the bill.
A Trusted, Local Kitchen Remodel Sacramento Company
Any kitchen, big or small, should be provided with the proper care and attention, no matter what type of project it requires. Kitchen remodel Sacramento is no different. Not only should you be able to enjoy the designs that you choose, you should also be satisfied enough with the results to spend time in your new workspace. That's why not just any contractor will do. Your project deserves kitchen remodel in Sacramento who can provide you with the results that you want. As a company that's had the opportunity to work with over 150,000 California homeowners in their home improvement projects, we understand just how much attention your kitchen requires. And how much you care about it. We have been in business for more than 70 years and one of our main goals is to provide homeowners with kitchens that they can be proud of. Every kitchen is designed to be unique, but that doesn't mean that any of them require less attention. Thankfully we've had the pleasure of working with so many homeowners that we've been given enough time to perfect our skills and gain ample experience. When we do kitchen remodel in Sacramento, we take every important detail in mind so that we can provide you with a clear and detailed assessment and tell you precisely what you can expect from our work.
Kitchen Remodel Sacramento Done Your Way
If there's one thing that makes home improvement projects like kitchen remodeling in Sacramento a chore for homeowners, it's the risk of getting confused with all those construction terminologies. As a family owned company, we understand your worries and we can assure you that there's no need for them. With your project, every stage stays clear and understandable, even the kitchen remodel costs Sacramento contractors quote. We also keep lines of communication open, so that if you have any questions, they get answered promptly. We also know how every decision is important, which is why we don't make them without you. We tell you all of our plans for your project right from the start and we'll quickly notify you of any last-minute changes.
What Yancey Company Can Do For Your Home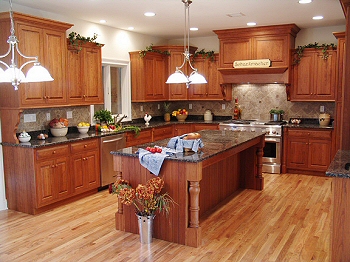 If there's one thing that has made us an outstanding member of the Better Business Bureau and has kept us accredited since 1997, it's our clear and straight-forward approach that keeps every project easy to follow. Here's what you can expect from us:
Meticulous Workmanship We always focus on the important elements of kitchen remodel Sacramento. When we take on a project, we pay close attention to every factor and making sure that we understand what your kitchen needs. Our price quotes, project proposals and construction work are extremely detailed and presented in a way that won't confuse you.
Exceptional Response Time It's important for us to stay easy to contact. Whether you're requesting an assessment or following up on your project, getting in touch with us won't take you more than five minutes.
Real Return on Investment
Every homeowner's biggest fear is how their project will affect their home. With us, that will never be a problem. Every project that we take on is strictly supervised to guarantee excellent and long-lasting results.
Work Done By The Book
Like it or not, there are some companies that will take advantage of a homeowner's trust, overcharging for inferior materials and substandard workmanship. This is not something that you'll have to deal with when you choose Yancey Company. As a professionally run business that carries twenty-five licenses, we are fully informed of the latest local building codes along with environmental and safety restrictions. We also make it a point to provide all of our clients with first-rate materials and equipment to ensure their home's stability. When it comes to kitchen remodel Sacramento, we don't just do things right, we do them legally.
Eliminating Causes For Concern
After being in business for 72 years, we know that there are risks involved in every home improvement project, including kitchen remodeling Sacramento. However that doesn't mean that we won't do our best to avoid them. In every project that we work on, we make sure that both our clients and our crew are safe. All of our crew members are provided Workers' Compensation. We also include a $2M General Liability policy, which is twice the state requirement.
An In-Depth Proposal for Your Project
For a homeowner, the biggest part of kitchen remodel in Sacramento is having your plans match your budget. With us, that's one more thing that you can cross off your checklist. At Yancey company, we never settle for estimates. When we visit your home, we assess every portion of your kitchen and make sure that every detail is well recorded. That way, we can tell you precisely what to expect and provide you with a firm and detailed price quote that covers all of the expenses. We'll also prepare a detailed project proposal for you to review so that you're aware and satisfied with our plans. We also take it upon ourselves to keep you up-to-date through all of the stages of your project. Once you've made the decision to work with us, we provide an on-site project manager, an in-office production manager and a lead carpenter to keep track of the entire process and to make sure that you're notified of our progress.
We Value Your Trust
When choose to work with Yancey Company, we provide your home with a well-trained and professional crew and ensure that they use only equipment and materials of the best quality. All of our staff are closely monitored throughout every stage to ensure quality workmanship, and we make sure that they are courteous, on-time and efficient, doing full day construction for the entire duration of your project. Remodeling in Sacramento is more than just a job for us. It's a chance to earn your trust and we won't let you down.
Insuring Our Work
When we say that we'll never risk your home, we mean it. At Yancey Company, we do more than just meet your expectations. For every project that we do, we include a competitive warranty. This way, if you have any questions about kitchen remodel in Sacramento later on or think that your kitchen needs added attention we can provide a solution for you. Just pick up the phone and call us!
Interested in Getting Your Project Started?
If you are concerned with kitchen remodel costs, Sacramento kitchen remodel company can discuss with you what's involved in depth. If you are ready to start and think that we can help you with your project, simply fill out this form to get your free on-site inspection and in-depth project proposal. We can assure you that it requires no obligation, and we'll be sure to contact you as soon as possible to schedule the kitchen remodel Sacramento assessment for a time that is convenient.
Need an expert kitchen remodeling contractor or a reliable partner for all your home improvement projects? Turn to Yancey Company. For more information, click here.
Published by: Yancey Company