Remodeling Magazine's 2012 Cost vs. Value Report
— lists bathroom remodel Sacramento projects as among those that yield the highest return on investment.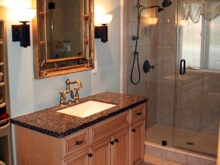 In fact, trends show that buyers are willing to pay more for a house with a good bathroom. However, a home improvement project is only as good as the contractor who does it for you.
With Yancey Company, you know you've got experts working on your bathroom. The moment you sign up with us, you can expect:
Top Rank Projects
Fast Lead Time
Quality Materials
Licensed Contractors
Solid Warranties
Personalized Projects
— No home improvement task can get as personal as a bathroom remodel project. Yancey Company understands that different homeowners have different needs.
We make sure that your bathroom – from the fixtures, cabinets, shelves, all the way down to the toilet seat height is perfectly suited for you.
In addition, we can help you design an accessible bathroom to accommodate persons in your home with special needs.
Keep your bathroom safe and accessible with these upgrades:
Custom-height hand rails
Non-slip tiles
Non-slip bath steps
Special lighting configurations
Anti-scald shower heads
Coverage
Strict guidelines are enforced on all Yancey Company work sites to ensure the safety of our people and your home.
Proper protective gear, safety protocols, and handling of hazardous agents and chemicals are never taken lightly.
However, we also don't like to take unnecessary risks, especially if it's your property we're dealing with. That's why all our projects come with $2 million general liability insurance coverage- two times the required insurance coverage for contractors.
Energy Efficiency
An average person stays in the bathroom for about 15 minutes on each visit. Multiply this by the number of people in your home and you can immediately see the amount of energy utilized by your bathroom.
The same goes for your water consumption. Bathroom fixtures with the Water Sense seal can help you cut back on your water consumption by up to 10-15%.
Yancey Company is committed to promoting products with the Energy Star seal. Cut down on your energy and water costs with energy efficient fixtures and installations.
Warranties
All projects completed by Yancey Company come with complete Manufacturer & Service Warranties. Other contractors only provide manufacturer warranties.
Unfortunately, warranties of this type often carry limitations, and only cover the materials used in the project. This means the homeowner has to shoulder all labor costs.
Service warranties, on the other hand, cover labor expenses. Together with the manufacturer warranties, you are assured that we've got your bathroom fully covered.
NARI and NKBA
We are proud members of National Association of the Remodeling Industry (NARI) and National Kitchen and Bath Association – two of the most recognized and well respected organizations of the country's top remodeling contractors.

Members of these organizations have access to the industry's latest innovations, methods, and procedures. With over 71 years of industry experience and thousands of homeowners served, Yancey Company gives you the assurance of nothing but the best remodeling service.
Published by: Yancey Company