Discover the Benefits of Replacement Windows
Worn out or damaged windows can compromise the ventilation and insulation of your home. A buildup of moisture or influx of pests can cause serious structural damage if left uncorrected.
If you're in the market for some replacement windows for your home, here's a little reminder:
Replacing your windows is an easy way to increase your home's value, but it can quickly turn into a financial nightmare if it's not done professionally.
To ensure a high quality window replacement project, a professional and accurate estimate and installation is the answer. With the help of our experts, you can enjoy the following benefits:
Increased market value for your property
Enhanced comfort in your living space
More attractive property
More savings from less energy use
Improved home safety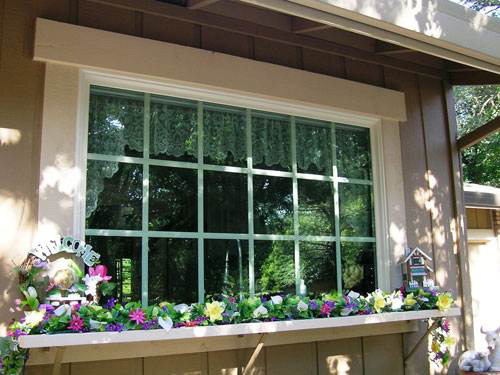 Increased Market Value For Your Home
Whether you're hoping to sell your home or not, it pays to increase its market value. Replacement windows, installed properly, are a great way to do just that.
This is especially true if you're replacing older, single-pane windows with dual-paned, insulated windows. In many cases, you can recoup most of your initial investment (studies by a leading magazine on home improvements and real estate estimates up to 80% ROI).
Enhanced Home Comfort
Old windows can be drafty and trap humidity in your home. This can increase the strain on your HVAC system, as it will have to work harder to maintain the temperature you desire in the house. Energy efficient replacement windows will keep your house comfortable all year long and even reduce the amount of noise pollution that comes in. Your oasis awaits!
Improved Curb Appeal
Most people would agree that windows can have a huge effect on the desirability of a house. You can drastically change the look and style of a home with just a change of the windows. The design possibilities are practically limitless!
If you're unsure which style to choose, our window experts can help. Call us today for a free consultation.
More Savings, Less Energy Use
Gaps along your window frames not only let bugs in, they also let heat and cool air out. Poor insulation means more work for your heating and cooling system, which translates to a higher utility bill for you. This is an especially important factor for home improvement in Sacramento, where summer weather can be quite hot.
Replacement Window Styles
Here are some of the most popular window styles available:
Double-Hung windows
Sliding Windows
Casement Windows
Picture Windows
Bay Windows
Bow Windows
Geometric Windows
Tempered Glass/Obscure glass for bathrooms
Replacement window frames come in a variety of materials as well. You'll choose from vinyl, insulated aluminum (thermally broken), fiberglass and wood.
Improved Home Safety
Keeping your family safe and secure is your top priority. Broken or cracked panes can pose serious safety risks, not to mention faulty sashes that may fall and cause injury. Aging windows can become loose and worn out tracks make sashes easy to lift out and remove. This can increase the potential for break-ins or burglary.
Our installation crew at Yancey Company can ensure that your windows are expertly measured, custom ordered and professionally fitted to eliminate energy leaks, and improve the safety and security of your family. Of course, all new operating windows include new screens. Keep insects like disease carrying mosquitoes and flies out!
We offer a no risk estimate to anyone who is interested. You have nothing to lose!
If you want to see what we can do for you, give us a call or visit our showroom today.
How do double pane windows work?
Double pane windows feature two panes of glass. In order to increase the insulating factor of double-paned windows, the window should have:
An air gap. This the empty space between the two panes of glass. Usually about a half inch.
An insulating spacer. This is the rubber and/or rubber and aluminum edging you can see at the edge of the two panes to keep the panes insulated from each other.
Air or Gas. Air is a decent insulating "gas" between the window panes but, the addition of either Argon or Krypton gas increases the insulating factor dramatically.
Coatings. Low-E coatings (silver oxide spray on the interior surfaces of the glass) further reduce the ability of ultra-violet light and heat transfer.
A highly efficient window will be built with a combination of above features. These features directly affect the energy efficiency ratings for insulation (U-Factor) and heat gain (SHGF/SHGC).